We've added to our transport portfolio by supplying a range of systems for five new Crossrail stations.
We're supplying to Bond Street, Farringdon, Liverpool Street, Whitechapel and Woolwich stations on what will become the Elizabeth Line.
The systems include blast-rated curtain walling, structurally glazed screens, and fire-rated and ballistic screens.
The line is expected to fully open at the end of 2018 and will increase London's rail capacity by 10% when it is fully operational.
The £14.8 billion Elizabeth Line will have 40 stations, including ten new stations, with up to 24 trains running each hour in both directions on its 100 kilometre route.
In Whitechapel station, pictured, We have been contracted by Kilnbridge to fabricate, supply and install a range of curtain wall screens for the station's new ticket hall on its mezzanine level.
Building work on the new station, which first opened in 1876 and now has over seven million users per year, has been complicated by its importance as an interchange for both the Hammersmith & City and District lines and the London Overground.
Wrightstyle has completed a number of recent prestigious transportation projects, both in the UK and internationally, including a major railway hub in Hong Kong and the iconic frontage of London's King's Cross station.
We've become an international leader in the supply of guaranteed systems to mitigate against fire or ballistic or bomb attack – and has live tested our systems against both car and lorry bomb attack.
Wrightstyle is also a major supplier to airports around the world, including several in the UK, with our systems providing a high level of protection against a range of threats.
"Crossrail is the largest construction project in Europe and has been designed to provide passengers with the safest-possible travelling environment," said John Woodcock, our contracts manager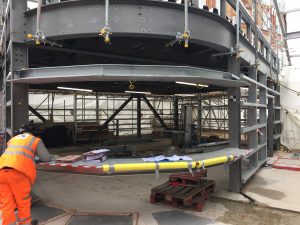 .
"That's why our systems have been specified across the new line because we have enormous experience in the sector, and our international testing regime provides absolute assurance on the strength and compatibility of both our glazed and framing components," he said.
Picture: Work in progress at Whitechapel station