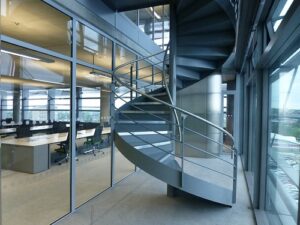 BREEAM rated Wembley Project
Wrightstyle, the leading steel glazing specialist, has completed a prestigious Wembley project for the London Borough of Brent's new Civic Centre, the UK's first "outstanding" BREEAM rated public building, which opened last month.
The 9-storey £100 million building, set within a 2.5 acre site, accommodates some 2,000 staff and councillors, and incorporates community facilities including a central library and learning centre, community meeting and performance spaces, Registrar's services, a large capacity assembly hall, and retail and exhibition space.
Fabricated, Supplied & Installed
Wrightstyle fabricated, supplied and installed glazed systems on behalf of SAS Direct. The glazed area is a three-sided atria and provides EI30 fire rating over four floors, using the company's F1 series framing system. It incorporates approximately 400m2 of fixed glazing, doors and access vents.
The new civic centre, close to Wembley Stadium, replaces some 17 council buildings, and incorporates a vegetable oil fired tri-generation unit, high performance facades, efficient building services and rain water recycling. It is hoped that centralising services in the new centre will save the borough some £2.5 million a year and generate an income of nearly £9 million annually.
The ground-breaking development, beside two established icons, Wembley Stadium and Wembley Arena, will realise the council's vision for a single community building consolidating civic, public and administrative functions onto one site, and accelerate the regeneration of the northern part of Wembley.
Key Features
The centre's key features include a landscaped garden for the community, exhibition and gallery space, community rooms, the new state-of-the-art library and 'The Drum at Wembley' with event facilities and capacity for up to 1000 people for weddings, performances and cultural celebrations.
Wrightstyle is a leading provider of integrated fire-rated steel and glass glazing systems for both the domestic and international markets, with a comprehensive range of guaranteed products offering both internal and external fire, ballistic and blast protection.
Wrightstyle's products and systems have UK and EU certification, and the company has additional international accreditation in, for example, the USA and Far East.
Main contractor: Skanska UK