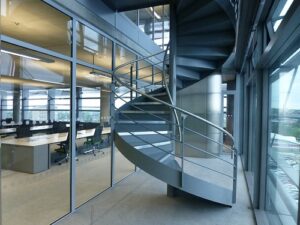 Austerity and Public Building Design
Austerity and public building design is a thorny subject.  Though austerity has been shared across households and every business sector, it has fallen particularly hard on public infrastructure expenditure. According to the National Audit Office, capital expenditure stood at £57 billion in 2009/10, falling to £42 billion in 2013/14.
However, the Institute for Government says that the UK "needs to make major strategic infrastructure decisions over the next few years" – to meet energy security, major transportation plans and to deal with such issues as climate change and an ageing population.
Therein lies the dilemma, because the NAO, the Office for Budget Responsibility and the Institute of Fiscal Studies all say that government investment in infrastructure has been diminishing – at a time when, realistically, serious money has to be found for major infrastructure projects.
The importance of public sector expenditure cannot be underestimated as it makes up some 40% of the annual £110 billion spent of UK construction. As part of its plans, the government also aims to reduce the initial costs of construction and the whole life costs of assets by 33%, and shorten planning-to-completion times by 50%.
While faster planning decisions would be welcomed by developers and the construction industry, one knock-on effect of cost reduction might have one unintended consequence, because civic architecture – whether a school, hospital or job centre – shouldn't just be about cost and function.
Civic Architecture & Good Design
National planning guidance states: "Achieving good design is about creating places, buildings, or spaces that work well for everyone, look good, last well, and will adapt to the needs of future generations. Good design responds in a practical and creative way to both the function and identity of a place."
That process of civic design, as with all architecture, is about balancing form and function in a complete building that looks good from the outside and performs well on the inside. And as the Royal Academy of Engineers has demonstrated, increasing the initial cost of a building's envelope has an almost negligible effect on lifetime costs – and, for example, by making energy efficiencies could deliver long-term savings.
At least in theory, that lifecycle approach is now accepted, with both HM Treasury and the Department for Communities and Local Government recognising the value of adopting a whole life cost perspective when appropriate.
However, the equation is complicated by operational costs – for example, the operating costs of a hospital can equal the value of its capital cost every two to three years. The same is true for a school, whose operating costs can equal capital cost every four years or so.
The cost/benefit debate in public sector architecture has been energised by such initiatives as the Prime Minister's Better Public Building Award, celebrating the best in civic architecture as a means to encourage debate and further best practice.
BREEAM Rated Public Buildings
Last year, a shortlisted project was Brent's new civic centre, the UK's first "outstanding" BREEAM rated public building, and for which we supplied a range of advanced glazing systems.
A ministerial forward to the 2012 National Planning Policy Framework, which applies in England, states: "Our standards of design can be so much higher. We are a nation renowned worldwide for creative excellence, yet, at home, confidence in development itself has been eroded by the too frequent experience of mediocrity."
Good Design An Investment
RIBA's 2011 report, Good design – it all adds up, still provides compelling evidence of the benefits of making quality a central component in civic architecture.
The report found that:
Health: Patients with access to daylight and external views require less medication and recover faster. For medical staff, good design reduces stress, fatigue and the chances of making mistakes.
Education: A 2010 survey by the British Council for School Environments (BCSE) and Teacher Support Network highlighted how 95.8% of teachers felt that the school environment had an influence on pupil behaviour.
Housing: At Westwood Estate in Peterborough, a survey revealed how simple, affordable environmental improvements such as road narrowing and closing off alleyways to deter intruders made a dramatic difference to residents' mental health and satisfaction with their housing development.
Growth and employment: The development of well thought-out urban spaces can revitalise run-down areas, promote business and increase employment. For example, the Liverpool ONE scheme, a £1 billion shopping, residential and leisure development, has helped to create over 3,500 new local jobs.
Work-places: The right office layouts, coupled with good air quality, acoustics and lighting can make the difference between a hard-working office and a less productive one.
Introducing the report, Ruth Reed, RIBA president said: "In stringent times, there is a danger that short-term money-saving decisions will be made on new buildings which result in poor solutions that are effectively false economies.
"Good design is an investment that pays for itself over a building's lifetime; bad architecture will always cost more; invest now, or pay later."
Four years on, with the government still seeking further financial cuts, her message still holds true: civic architecture is about more than bricks and mortar. It's about the communities in which we live and work, and how we make them better.